Who are your elected officials?
Take the time to learn about your local elected officials. Not sure who represents you and your members? Visit the Maryland General Assembly home page to find out who your representatives are. Looking for something a little more intuitive? Sign up to receive email legislative updates on bills you want to track throughout the session. It's as easy as clicking on the image below.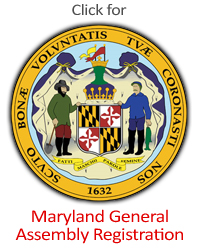 The Fraternal Order of Police is the largest organization of law enforcement professionals in the United States. The Maryland State FOP maintains an office in Annapolis, Maryland, where our legislative committee actively lobbies members of the Maryland General Assembly on the issues most important to rank-and-file law enforcement officers. The Legislative Program is the most active and comprehensive of any law enforcement organization in Maryland.
FOP Legislative Message
Facebook Stories
Senate Recommendations
House Recommendations
Law Enforcement Officers Bill of Rights Primer
Letter to Membership
LEOBR Facts
Keep Maryland Safe